Get Writing
I'm passionate about inspiring and challenging students to write and I offer workshops in both primary and secondary school.
What makes my workshops different? I want students to surprise themselves. I encourage them to be adventurous and to experiment with different forms. I share strong and vivid pieces of writing to create different moods and atmospheres. And I love it when students read out their work and realise what they've achieved. I want participants to walk out of a writing workshop with a swag of work they can feel proud of. Obviously the exercises and approach will be appropriate for the Year level and I'm keen to challenge both high school students and the gifted and talented to extend their inventiveness, versatility and writing skills.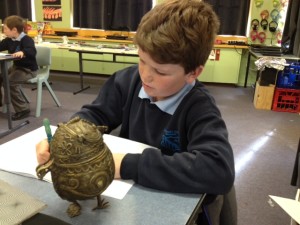 Typical workshop activities include:
Free/ stream writing to loosen up and get past self-consciousness.
Fun and inspiring games and exercises including rhyming games, Tanka writing, writing in 'The Voice of…', writing about people you know well.
Writing about mystery objects. Close-up descriptions followed by the secret life of the object.
Students are asked to imagine themselves in a dramatic situation i.e. trapped underground or being chased by a tiger and have to continue to write the drama and resolve it.
Microstories: 50 word stories with the first sentence given.
Reading out work and developing self-confidence and respect from peers.
Duration: A minimum time for a creative writing workshop would be 50 minutes. I am happy to tailor my workshops to suit the needs of the school and students. 1.5 – 2hrs is a good length for a workshop. I'm flexible about group-size but would suggest that 30 is the maximum.
Cost: Please contact me for information about fees. I'm happy to discuss costs for two or more days.
After a day of writing workshops…
My son never talks about what happens at school but I couldn't shut him up the other night he was so excited.
Parent of student from St Joseph's Primary School, Bombala, NSW.
Poetry Performances
I'm now offering a 30 minute poetry performance based on my book for 7-12 yr olds Shoctopus. Students will be quickly engaged by the humour, stretched by the language and intrigued by the shift of moods. Verb-poems, rap, songs, rhyme, shape-poems – they're all energised by a strong sense of fun. My poems are about seeing the world differently and if that means students want to get down to writing their own versions, I'm happy!
Group-size: Up to 200.
Cost: Negotiable. A great way to engage a large number of students. My performance can be incorporated in a day or half day of writing workshops and is a great way to wind up a session.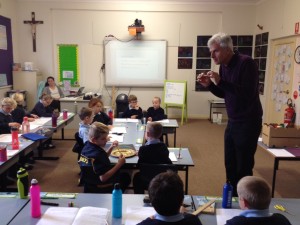 Contact details e: harrylaing@bigpond.com
ph: 02 48461075
Writing on the wild side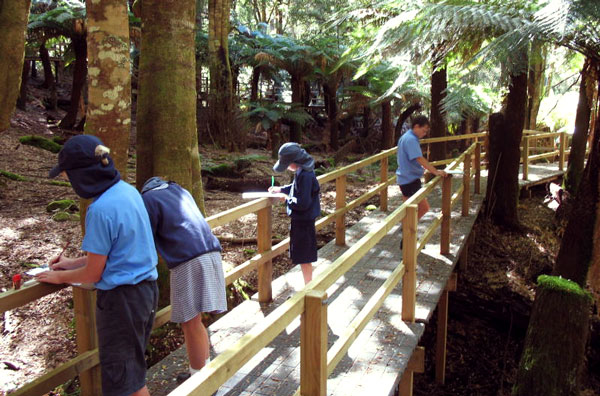 My day workshop is a great way to get students outside the classroom and writing in the natural environment. It can take place in botanic gardens, outdoor centres, National Parks, bush or beach. Students love being taken out of the school (even if it's only a short distance) and I find they always respond strongly and imaginatively to nature. I ask them to find a special spot, to sit there quietly and write down anything they see and hear, paying real attention to detail. Generally there will be a meeting room or outdoor area where students can polish and share their writing.
Just being away from the daily life of the school for a few hours is enough to get students writing from fresh angles: the quiet time concentrating on natural sights and sounds allows them to focus more intently and get concrete in their writing.
Duration: whole day, cost: please get back to me for a quote
Feedback on my schools workshops:
The budding Year 9 and 10 writers of Lyneham High School were lucky to spend three days at Birrigai (ACT) in February under the guidance of Harry Laing, a professional writing tutor. Harry was instrumental in fostering a sense of pride in the students' work, encouraging them to experiment with different forms of writing and to find and nurture the medium with which they felt most comfortable. The students responded strongly to his positive and inspirational approach, many of them finding an inner voice they perhaps didn't realise existed and all of them producing some fine pieces of writing. the retreat was a challenging and rewarding experience for all students while Harry's friendly and professional demeanour was greatly appreciated by assisting staff from Lyneham.
Patrick Steele, English teacher, Lyneham HS, ACT.
Thanks for a wonderful day at the National Botanic Gardens. The students enjoyed the experience of working with a published writer and someone who is not a teacher.
We were impressed that some of the quieter students, who are reluctant to share their work were willing to do so later in the day when they realised that they were working in a supportive and non-judgemental atmosphere.
Sharon Hayes, English teacher Alfred Deakin HS, ACT
On behalf of  Lanyon Cluster Schools Regeneration Organising Committee, I am writing to express our appreciation of your fine contribution to the Bushfire Regeneration Project at Birrigai, as writer in residence.
Through your guidance, the students produced some wonderful works, which culminated in the superb public exhibition at the Lanyon Market Place.
Carolie Wilson, Charles Conder Primary Scool, ACT.