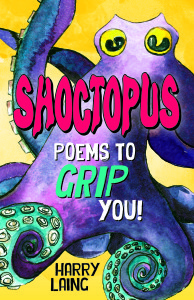 Here's the cover image of my brand new book for 6-12 yr olds: Shoctopus – poems to grip you!
Shape-poems, verb-poems, chants, rhymes, songs and rap, they're all just jumping off the page in this collection of illustrated poems. They're not just funny, they'll make you see the world differently. Featuring Alien Dads, Jellyfish, Acrobat Rats, Wheelie-bin raps and the incredible Supertap. Plus Clinton De Vere's illustrations make it an even more fun experience.
What the reviews say:
from Reading Time where the book is Highly Recommended
'A wonderful, eclectic collection of verse, this small book offers a great introduction to the possibilities of language and the notion that poetry indeed can be fun.'                Mem Capp
from Kids Book Review:
'The book is quirky and fun and Laing isn't afraid to play with language. This book is great for kids who are fans of poetry but is also a sweet little nudge in the direction of poetry for those who are not. That's why I think books like Shoctopus are important. The emancipation from the obvious can be a powerful tool for linguaphiles and linguaphobes alike.'          Susan Whelan
What the Wind Does
gets up
huffs and cuffs
whistles hustles
moans groans
licks flicks sticks
grows blows throws
rattles battles buffets bustles
mashes crashes bashes smashes
blistering blustering mustering
whips strips whirls curls
blasts rasps raves shaves
roars howls screams slams
blinds grinds
eddies steadies
waits hesitates
builds drills thrills spills
whistles bristles muscles bustles
flings flattens smacks whacks
wheezes eases teases
flaps drops
limps slumps
tries
dies
Some pics from the recent launch of Shoctopus at Harry Hartog bookshop in Canberra (Sat August 8th):
Some quotes from young poetry fans:
'Could we rewind and relive the last 30 minutes?' Harrison, after the Braidwood launch.
'Harry's performance was funny, that's for sure! He recited some poems from his book Shoctopus. He put humour and energy into his act.'   Nelson, Braidwood Central School.
'He really inspires you to write poems. I've written five of my own' Wyatt, Braidwood Central School.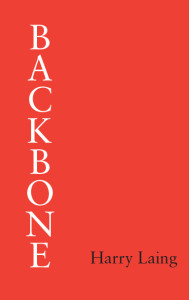 Backbone
By Harry Laing
Backbone can be ordered direct from Bunda Press:
email: harrylaing@bigpond.com
ph: 02 48461075
price: $25.
Harry Laing's poems in Backbone, his second poetry collection have a startling clarity and confidence. There's also a compelling sense of drama. Whether evoking a bowerbird's antics or the mock-heroics of a visit to the chiropractor these poems inhabit the reader.